Whew! Super Bowl 49 (or XILZXVX or whatever in Roman numerals) was quite a doozy wasn't it? What with a close score and improbable interceptions and guacamole spilled on the carpet? Yeah, it was a good day. And I tried really hard to make a good day even better by creating a couple tiny snack masterpieces for my friends (and gosh, myself) to enjoy. By the power vested in me by The Lady Who Works for Chex, I now share with thee two amazing Chex Mix recipes.
First is the OG Chex Mix. Literally straight from the Chex website:
Original Recipe Chex Mix
Ingredients:
3 cups Corn Chex™ cereal
3 cups Rice Chex™ cereal
3 cups Wheat Chex™ cereal
1 cup mixed nuts
1 cup bite-size pretzels
1 cup garlic-flavor bite-size bagel chips or regular-size bagel chips, broken into 1-inch pieces*
6 tablespoons butter or margarine
2 tablespoons Worcestershire sauce
1 1/2 teaspoons seasoned salt
3/4 teaspoon garlic powder
1/2 teaspoon onion powder
*I could not find bagel chips, so used garlic parmesan pita chips instead. Still good.
Microwave Instructions:
In large microwavable bowl, mix cereals, nuts, pretzels and bagel chips; set aside. In small microwavable bowl, microwave butter uncovered on High about 40 seconds or until melted. Stir in seasonings. Pour over cereal mixture; stir until evenly coated.
Microwave uncovered on High 5 to 6 minutes, thoroughly stirring every 2 minutes. Spread on paper towels to cool. Store in airtight container.
Oven Instructions:
Heat oven to 250°F.
In large bowl, mix cereals, nuts, pretzels and bagel chips; set aside.
In ungreased large roasting pan, melt butter in oven. Stir in seasonings. Gradually stir in cereal mixture until evenly coated.
Bake 1 hour, stirring every 15 minutes.
Spread on paper towels to cool, about 15 minutes. Store in airtight container.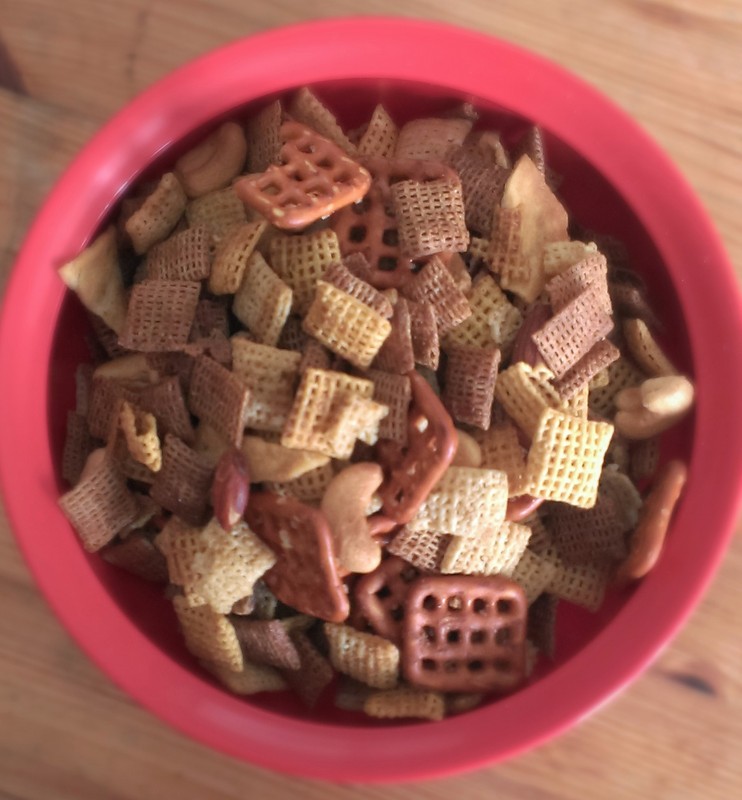 Next up, the ridiculously addicting dessert version, Muddy Buddies!
Muddy Buddies
Ingredients:
9 cups Rice Chex™, Corn Chex™ or Chocolate Chex™ cereal (or combination)
1 cup semisweet chocolate chips
1/2 cup peanut butter
1/4 cup butter or margarine
1 teaspoon vanilla
1 1/2 cups powdered sugar
Instructions:
Into large bowl, measure cereal; set aside.
In 1-quart microwavable bowl, microwave chocolate chips, peanut butter and butter uncovered on High 1 minute**; stir. Microwave about 30 seconds longer or until mixture can be stirred smooth. Stir in vanilla. Pour mixture over cereal, stirring until evenly coated. Pour into 2-gallon resealable food-storage plastic bag.
Add powdered sugar. Seal bag; shake until well coated. Spread on waxed paper to cool. Store in airtight container in refrigerator.
**Or, if you're a microwave-less hippy like me, do this on the stove.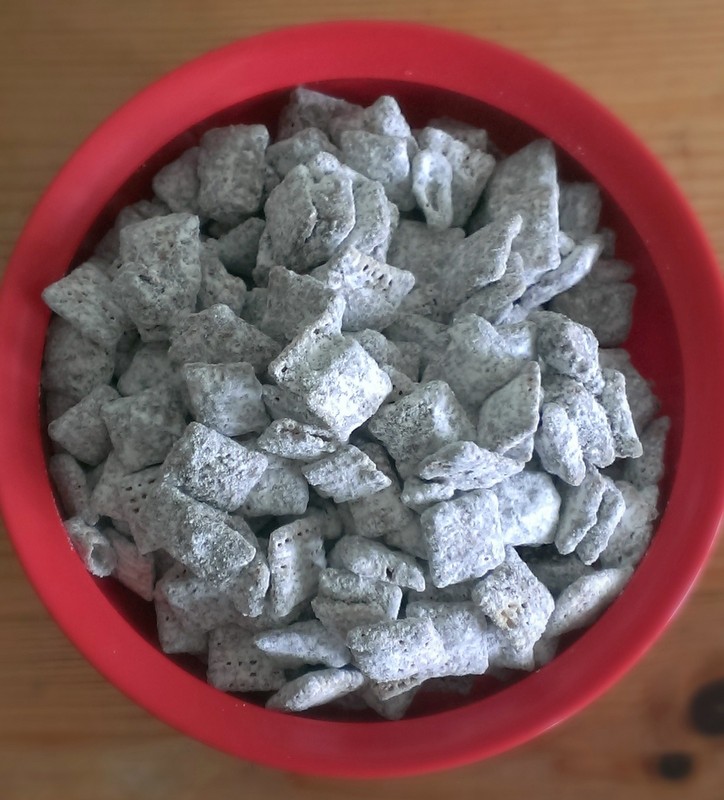 And, with the power from loads of sugar and carbs, you can now win your super bowl squares pool and come home with a cool $480. Ok, maybe that's just me. I'll take it. You try it next year.